Rhythm Power Personal Empowerment:
Rhythm As A Life Practice!
Uplift and empower YOUR life through rhythm!™
Drum Circles – Recreational Drumming – Private Events – Ceremonies
Personal Growth Workshops & Conferences – Worldwide
"Percussionist Jim Greiner invokes the primal power of rhythm to lower the participants' stress,
to exercise their minds and bodies and to bind them together in community"
– PBS special, Healing Quest
Drumming is one of humanity's most ancient, universal and uplifting transformational activities. Throughout the ages, people worldwide have played rhythm instruments as individuals and in groups to:
Release stress
Enhance clarity & focus
Connect and energize Mind, Body & Spirit
Create social bonds & thriving communities
Acknowledge and celebrate important events and Life Blessings
Live Life with a spirit of play!
Recent clinical studies have also conclusively documented many of the physical, mental and emotional benefits of focused drumming activities.
Jim Greiner is an internationally renowned percussionist, educator, inspirational speaker and community drumming leader.  He has developed fun, easy and enormously uplifting interactive drumming programs and rhythm-based workshops for people from all walks of life, and for groups of all types and sizes.
Jim's award-winning work is based on over five decades of his rhythm experience and rhythm journeys, including two years in Africa where he was profoundly moved by the power of rhythm to uplift, inspire and focus people during special events and in their daily lives.
"Jim Greiner's workshops go far beyond drumming to the roots of relationship that are longing to emerge in each of us"
– Gary Zukav, best-selling author of "The Seat Of The Soul" 
Jim Greiner's Rhythm Power® playshops and inspirational/instructional videos and CDs also make it fun & easy, in the comfort of your own home, to become a part of the rich tapestry of this age-old, worldwide tradition of celebrating our humanity and our spirit through rhythm. Click Here for more information about these products!
Jim is also acclaimed worldwide as an expert in the many positive and powerful effects of rhythm on individuals and groups.  He is an in-demand speaker, presenter and writer about these effects on people from all walks of life.
"The repetitive, physical nature of drumming, whether vigorous or tranquil, helps release stress, enhance clarity and focus, and has many of the same physical, mental and emotional benefits as Martial Arts, Yoga, Athletics and Meditation."
– Jim Greiner, Interviewed on National Public Radio (NRP)
With Rhythm Power®, Jim combines rhythm-play, vocalization, movement and stories of his worldwide drumming and adventure travels, as well as traditional folklore, into fun, exciting and profoundly moving experiences that will help you to:
Ground, center and relax yourself
Rejuvenate and focus yourself physically, mentally and emotionally
Connect with your innate rhythmic abilities
Recognize and shape your own internal and external Life Rhythms
Use drumming as a fun, down-to-earth vehicle to learn productive, real-world Life Skills
Replace "bad habits" with powerfully uplifting Life Rhythms
Celebrate the Blessing that is Life!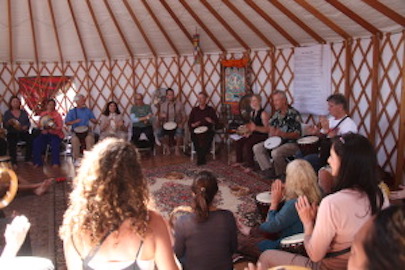 "Your drumming events help bring people together to celebrate and enrish their lives through sound and music!  They have been a great asset to our National Tours!'
– Carl Andrews, Founder, Whole Life Espos
Thank you for the great start to our retreat! You did a great job of understanding our group, and honoring the participation of THE children, as well as the adults!"
– Reverand Kathi McShane, San Ramon Valleu United Methodist Church
Rhythm Power® Programs
Community Drum Circle (30 minutes to two hours): A facilitated group drumming "jam session". Guaranteed to break the ice, build community bonds and create a spirit of celebration for groups and events of all kinds and sizes. Weddings, parties, births, family reunions and much, much more!
Rhythm Rites™ (30 minutes to two hours): Jim works with group leaders, ministers, therapists, teachers and others to create customized interactive rhythm sessions for their special events, ceremonies and group processes. Jim will also come to your place of worship and conduct participatory rhythm programs during your services: includes welcoming rhythms to begin your service, calm meditative rhythms during your service, and uplifting celebratory rhythms to close your service.
Rhythm Power® (two hours to multi-days): An experiential, rhythm-based inspirational workshop that motivates people to live their lives with intention, passion, a focus on common goals and values, and in a spirit of celebration… to create powerful and positive Life Rhythms!
Communicating, Collaborating & Celebrating Through Rhythm!™ (30 minutes to two hours): An interactive presentation, with or without instruments, that uses group rhythm-play as an uplifting vehicle to teach and reinforce the universal core principles and essential, real-world life skills needed for groups of all types to thrive.  For corporate team building, conference ice-breaking and keynotes, community and school events and groups, and private workshops.
"What a wonderful journey we had with your Rhythm Power workshop! Your unique blend of inspirational leadership and humanity helped us to relax, learn and have fun.  Definitely one of the best community activities we've ever done!"
Linda Miller, Minister, Pathways To Self Healing
All instruments are provided and bring your own!
All budget, sound and space constraints easily accommodated
Small "take-away" percussion instruments, with or without your logo or theme imprinted, are also available for your group members as fun, playable mementos of your event
Contact Us NOW to bring Jim Greiner's Rhythm Power®
Playshops, Drum Circles and Percussion Classes to YOUR group, community, and events!